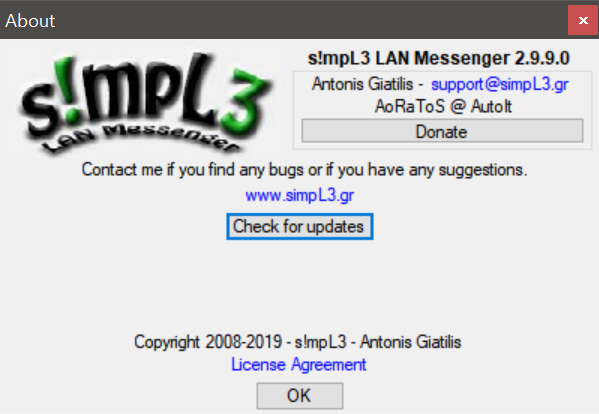 s!mpL3 LAN Messenger is an application designed to be simple and easy to use while not lacking useful features and functionality. Keeping simplicity in mind, the application requires no complex installation procedure, just a few steps to follow the first time you run it. After that, connecting and chatting with others on your Local Area Network(s) is effortless! Being so simple doesn't mean cutting down on other things, below you can see some of the main features:

All in one - You don't need to run a server separately, all you need is s!mpL3 LAN Messenger.
Multi-Network - You can be connected to up to 4 Local Area Networks at a time.
Sounds - Be notified by hearing a sound of your choice when someone chats you.
Hide-Key - A key combination to hide/show s!mpL3 LAN Messenger and all its windows instantly which can also be configured to require a password!
Updater - Stay up to date!
LAN Update - You can now update multiple computers via LAN after updating one online!
Block/Unblock - You can block other users from contacting you!
File Transfers - Send multiple files to other clients, the simple way!
Encryption - All communication is encrypted with AES 128bit.
FREE - Yes, completely free!
Many more...
New features are constantly being added and will be available in future updates!

System Requirements:
Windows (XP, Vista, 7, 8, 8.1, 10) x32/x64

Local Area Network
Internet connection (to check for updates)
You can read more about s!mpL3 LAN Messenger here. (AutoIt Forum)


Screenshots: